Ottawa's 'Indiana Jones of smoking cessation' is stepping back, but not away
Published Jan 21, 2023 • 4 minute read
Join the conversation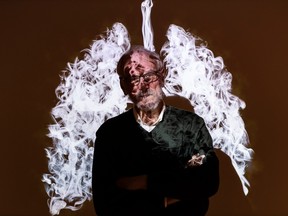 Dr. Andrew Pipe will be stepping away from his role as the head of the smoking cessation program at the University of Ottawa Heart Institute, although he will continue his research on smoking. Photo by Errol McGihon /POSTMEDIA
After almost five decades in medicine, there's one sight that can still bring Dr. Andrew Pipe's blood to a boil — a hospital patient outside at 2 a.m. on a cold winter night in a hospital gown, clinging to an IV pole and smoking a cigarette.
"That patient is receiving substandard care. That should not be happening," said Pipe. Pipe is recognized worldwide for his work in helping thousands butt out. He was instrumental in developing the "Ottawa Model" of smoking cessation at the University of Ottawa Heart Institute.
Sign up to receive daily headline news from Ottawa Citizen, a division of Postmedia Network Inc.
By clicking on the sign up button you consent to receive the above newsletter from Postmedia Network Inc. You may unsubscribe any time by clicking on the unsubscribe link at the bottom of our emails or any newsletter. Postmedia Network Inc. | 365 Bloor Street East, Toronto, Ontario, M4W 3L4 | 416-383-2300
Pipe is stepping back from the role, but he's not stepping away and will continue his research in the field. Tobacco imposes a huge burden on the health care system and there is an enormous cost in human lives. More people have died of tobacco-related illness during the pandemic than died of COVID-19, said Pipe.
Something he witnessed early in his medical career when he was working as a general practitioner in a northern town remains etched in his mind. The patient was a miner, the father of three children, a smoker with inoperable lung cancer. Cancer had eroded the blood vessels in the man's lung.
"He literally vomited 50 per cent of the blood volume in his body in front of his three children," recalled Pipe.
"I remember thinking that it couldn't be long before these guys (the tobacco industry) were put out of business. This is an industry that knowingly addicts and kills."
In the mid 70s, about 55 per cent of Ontario males were smokers. It's now about 12 to 14 per cent, said Pipe. Smoking is heaviest in Newfoundland and Labrador and the Maritimes, and drops as you move west. About half of all cigarettes are consumed by people with psychiatric challenges, he said.
Using a three-step approach — ask, advise, act — the Ottawa Model is about consistently identifying all tobacco users and offering help in a sensitive and non-judgmental way.
The key is identifying smokers as part of routine care, the same as checking for high blood pressure. Smoking is a modifiable risk factor and medical professionals have a fundamental responsibility to talk to patients about it without being preachy, said Pipe. They also have to acknowledge that smokers trying to quit are suffering from withdrawal and offer them treatment to make them more comfortable.

"The Ottawa Model was more about changing the behaviour of doctors and nurses," said Pipe. "It's all about doing ordinary things extraordinarily well."
First delivered in Ottawa, the model was first used in hospitals, then adopted for primary care. It is now offered at over 500 health sites across Canada and 20,000 health-care professionals have be trained in how to deliver it.
The model is being introduced in the U.K. and has been replicated in Australia. It is not used at The Ottawa Hospital, which Pipe notes is a "very sad irony."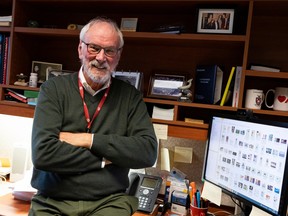 A colleague describes Dr. Andrew Pipe, pictured here in his office, as the "Indiana Jones" of smoking cessation. Errol McGihon/Postmedia Photo by ERROL MCGIHON /ERROL MCGIHON
There have been victories in the war against tobacco, including getting tobacco sponsorship out of sports, airplanes and federally-regulated industries. But there are still battles to be fought — or fought again. Canada once led the world in preventing smoking among teens, but that has slipped, said Pipe.
He points to ground-breaking legislation recently introduced in New Zealand, aimed at making it impossible to hook the next generation on smoking. Under the law, tobacco can't ever be sold to anybody born on or after Jan. 1, 2009.

Pipe's successor, cardiologist Dr. Hassan Mir, calls Pipe the "Indiana Jones" of smoking cessation.
"He's such an adventurous individual," said Mir, who met Pipe at a conference where Mir, then a medical student, was delivering a poster.
"He's seen as a trailblazer in the field. He's one of the most interesting people I have ever met."
Pipe invited Mir to the Heart Institute. Mir followed Pipe around for two weeks, including one episode in which Pipe folded his lanky frame into his Smart Car and the two headed to Smiths Falls, where Pipe was giving a talk.
"In medicine, you don't get a lot of one-on-one time," said Mir. "He really took the time."
Pipe is a member of the Canadian Olympic Hall of Fame, served as the chair of the Canadian Centre for Ethics in Sport until 2003 and was a physician at 13 Olympic games. Next week he's headed to Guatemala, as team physician for the Canadian National Men's U-17 soccer team.
But first, Pipe and Mir will be opening the 15th Ottawa Conference this week. The annual conference attracts smoking cessation experts from around the world. Among the topics on the agenda: vaping cessation, the impact of smoking on cancer and cancer treatment, and a "fireside chat" moderated by Pipe on the changing landscape of nicotine products.
The industry is always introducing new products that make it easy to get hooked and new ways to promote them. The latest technology is a new generation of battery-powered disposals whose popularity among youth has been powered by social media, said Pipe.
"One of the greatest tragedies has been that the tobacco industry is producing a whole new cohort of addicts through e-cigarettes. They have replaced those who have died by designing new products."

The Royal Ottawa hired Dr. Jack Kitts to write a report on 'a collaborative way forward' — but won't release the findings

Coalition of Ottawa community groups wants local Jordan Peterson event cancelled