Both teams can still sneak into the last 16 but who will seize the initiative, Switzerland or Turkey? Join Rob Smyth to find out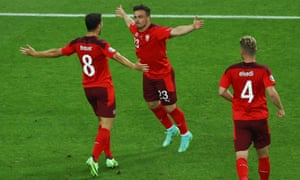 Key events
Show
6.25pm

BST

18:25

GOAL! Switzerland 3-1 Turkey (Shaqiri 68)

6.20pm

BST

18:20

GOAL! Switzerland 2-1 Turkey (Kahveci 62)

5.48pm

BST

17:48

Half time: Switzerland 2-0 Turkey

5.26pm

BST

17:26

GOAL! Switzerland 2-0 Turkey (Shaqiri 26)

5.07pm

BST

17:07

GOAL! Switzerland 1-0 Turkey (Seferovic 6)

4.00pm

BST

16:00

The permutations

3.58pm

BST

15:58

Team news
Live feed
Show
6.29pm BST18:29
71 min That was such a good finish from Shaqiri, because the ball bobbled slightly just in front of him, but he watched it onto the side of his foot and lasered it into the roof of the net.
6.28pm BST18:28
It's still Italy 1-0 Ten-man Wales. Switzerland need a two-goal swing to move above Wales.
6.28pm BST18:28
70 min Calhanoglu is booked for a poor tackle on Elvedi.
6.27pm BST18:27
It was another superb finish. The tireless Zuber played a one-two with Xhaka, just inside the Turkey half, and then shaped an excellent low cross around the defence. Shaqiri ran onto it, 17 yards out, and slammed a first-time shot through Cakir with his left foot.
6.25pm BST18:25
GOAL! Switzerland 3-1 Turkey (Shaqiri 68)
Xherdan Shaqiri gets his second!
6.25pm BST18:25
67 min Scratch that, Kahveci didn't come off; of course he didn't. I have no idea who did, I'm afraid.
6.23pm BST18:23
66 min In fact Turkey made a triple substitution after the goal. The one I missed was Yusuf Yazici for the goalscorer Kahveci, whose last touch was that cracking goal. I bet he was thrilled to come onee.
6.23pm BST18:23
65 min Seconds later, Freueler's low cross is turned wide of the near post by Embolo. He was under pressure so it wasn't much of a chance.
6.22pm BST18:22
64 min Yet another fine save from Cakir, who dives full length to his left to keep out another right-footed curler from Shaqiri.
6.21pm BST18:21
63 min Turkey celebrate with a double substitution: Okay Yokuslu and Kenan Karaman replace Tufan and Ayhan.
6.20pm BST18:20
GOAL! Switzerland 2-1 Turkey (Kahveci 62)
Another twist! Irfan Can Kahveci has got Turkey back in the game - and given Wales a boost - with a brilliant goal. He twisted Rodriguez one way and then the other before lashing a left-footed shot that flew across Sommer into the far corner.
6.18pm BST18:18
61 min Cakir makes an outstanding fingertip save from Seferovic, who beat two players and drove a low right-footed shot towards the far corner. There have been a few good saves in this match, at both ends, but none better than that.
6.17pm BST18:17
59 min Nothing much happening in this game. Switzerland haven't settled for 2-0, though; their intensity is good and they evidently know the value of winning by four or five.
6.16pm BST18:16
Wales are down to 10 men in Rome, whereEthan Ampadu has been given a straight red for a late tackle. Switzerland need a two-goal swing across both games to have a chance of leaping into second place.
6.12pm BST18:12
54 min Under, who has been Turkey's best player along with Muldur, slaloms past three players but then blooters the ball into orbit from the edge of the area.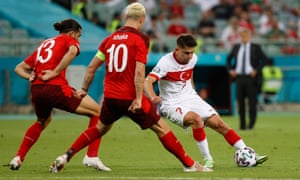 Updated at 6.19pm BST
6.10pm BST18:10
52 min Embolo bursts away from Soyuncu in the inside-right channel and blasts a rising drive that is superbly saved, one-handed, by Cakir at the near post.
Updated at 6.10pm BST
6.09pm BST18:09
51 min Another chance for Zuber, whose shot takes a slight deflection and is saved at the second attempt by Cakir.
6.07pm BST18:07
5o min At the other end, Under's cross is headed over by Yilmaz. A half chance.
6.06pm BST18:06
49 min Seferovic drops between the lines and plays a simple pass through the inside-left channel to Zuber. His shot from a tight angle is comfortably saved by Cakir.
6.02pm BST18:02
46 min Peep peep! Turkey begin the second half.
5.57pm BST17:57
Four points might not be enough to qualify as one of the best third-placed teams. Unlikely, but not beyond the realms. At this stage it's possible for the third-placed team in all six groups to finish with at least four points, in which case it will come down to goal difference. Somebody could be in for a nasty surprise.
Updated at 6.04pm BST
5.54pm BST17:54
The half-time score in Rome is Italy 1-0 Wales. That means Switzerland are level on points with Wales but with an inferior goal difference, -1 to Wales' +1.
5.48pm BST17:48
Half time: Switzerland 2-0 Turkey
Peep peep! Switzerland are heading through to the last 16 thanks to fine goals from Haris Seferovic and Xherdan Shaqiri. Turkey have been lively in attack, forcing a number of good saves from Yann Sommer, but they are all over the show in defence.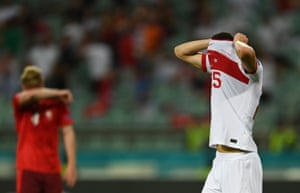 Updated at 5.54pm BST
5.46pm BST17:46
45 min After Soyuncu made that superb block a couple of minutes ago he was kneed in the face by Seferovic, who couldn't stall his momentum. He seems fine but I'm surprised there wasn't a concussion check. In the Premier League last season, there might have been a red card for Seferovic as well.
Updated at 5.49pm BST
5.44pm BST17:44
43 min Seferovic's shot is brilliantly blocked the sliding Soyuncu. Turkey break through the left-back Muldur, who beats three players during a barnstorming 70-yard run before his shot is excellently saved by Sommer.
5.41pm BST17:41
40 min I've just realised that I'll need to discuss the score in the Italy/Wales game later, because it will affect where Switzerland finish in the group. So if any of you don't want to know what's happening in the Wales game, please bugger off at your earliest convenience.
5.38pm BST17:38
38 min Embolo's cross shot flies a few yards wide of the far post. The angle was pretty tight.
5.37pm BST17:37
36 min Under feeds a short pass into Yilmaz in the area. He wins an impromptu wrestling match with Akanji and pokes the ball square to Celik, who spanks it over the top. A half chance.
Updated at 5.37pm BST
5.36pm BST17:36
35 min I won't tell you what's happening in the Italy/Wales game, just in case any of you plan to watch it on delay, but you can get the latest news with Paul Doyle.
5.34pm BST17:34
33 min Sommer makes another excellent save, diving full length to his right to push Muldur's swirling long-range shot round the post. Turkey have been pretty good going forward, but their defending has been hopeless.
5.31pm BST17:31
30 min "I do hope Turkey don't fire Senol Gunes on the back of their poor performance in the tournament," says Anis Aslaam. "He's a good coach and they're still leading their qualifying group for the World Cup. It might be a crappy tournament for the Turks but sacking Mr. Gunes isn't the way forward."
Yep, I totally agree, but I fear there is a P45 with his name on it.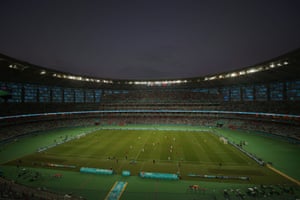 Updated at 5.39pm BST
5.30pm BST17:30
28 min: Fine save from Cakir! Switzerland should be out of sight. Seferovic, in the centre circle, turned and played a clever pass to Shaqiri, who roared away from Soyuncu and through on goal. He reached the edge of the area and then drove a low shot across Cakir, who thrust out his right foot to deflect it past the post. Superb save.
5.28pm BST17:28
Seferovic again had too much time to line up a shot from the edge of the area. This time it was blocked but Zuber picked up the loose ball and squared it to Shaqiri on the edge of the D. His immaculate first touch created just enough space for him to hit a spectacular curling shot that flashed past Cakir as he leapt to his left.
Updated at 5.32pm BST
5.26pm BST17:26
GOAL! Switzerland 2-0 Turkey (Shaqiri 26)
Xherdan Shaqiri scores a beauty - with his right foot!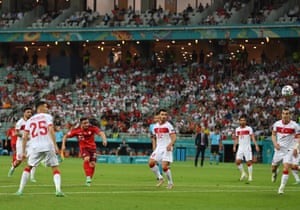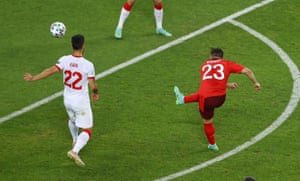 Updated at 5.32pm BST
5.24pm BST17:24
23 min Tufan curls over from 25 yards. A bad idea, poorly executed.
5.22pm BST17:22
23 min Turkey probably need to win 4-1 to have a realistic chance of qualifying for the knockout stages. For Switzerland, any victory will do.
5.21pm BST17:21
21 min Zuber, who has been heavily involved in attack, shoots well wide from 25 yards.
5.19pm BST17:19
18 min Shaqiri, on the right, feeds a pass into the penalty area. Zuber lets it run cleverly to Embolo, who tries to flick it round the corner to give Zuber a shooting chance. The pass is just too heavy and Zuber can't control it on the stretch. That was a decent opportunity.
Updated at 5.20pm BST
5.18pm BST17:18
17 min Seferovic runs onto a long pass and shoots straight at Cakir from the edge of the area. The angle was tight and he had a defender alongside him, so it wasn't much of a chance.
5.17pm BST17:17
16 min: Good save from Sommer! The impressive Under skins Zuber on the right and hits a fierce cross that just evades the leaping Yilmaz in the middle. It's collected on the far side of the area by the left-back Muldur, who chests the ball down and cuts across a good strike that is pushed away by the diving Sommer.
Updated at 5.18pm BST
5.11pm BST17:11
11 min Turkey started brilliantly but they look thoroughly cheesed off at going behind again. Switzerland have a decent chance to put them away in the next 10 minutes.
5.09pm BST17:09
8 min "Turkey were, genuinely, a really good team in qualifying," says Kári Tulinius. "It's been mystifying to see how they've gone from being aggressive defensively and intelligent offensively, to the pub side that turned up against Italy and Wales. I can't think of a national team having that severe a drop-off in such a short time, without injuries being a factor."
Colombia 1994 are the first team that come to mind, although as we know there was all sorts going on there.
5.08pm BST17:08
Zuber picked up a loose ball on the edge of the area and played a short pass infield to Seferovic. He was given too much time to turn and drive a precise low shot that went through the legs of Demiral and sneaked into the far corner. At first it looked a relatively innocuous attempt, but it was perfectly placed and Cakir couldn't reach it as he dived to his left.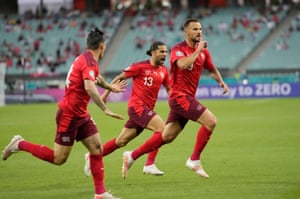 Updated at 5.12pm BST
5.07pm BST17:07
GOAL! Switzerland 1-0 Turkey (Seferovic 6)
Switzerland score with their first attempt!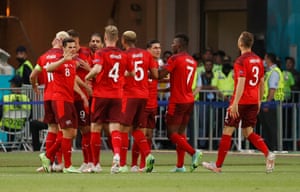 Updated at 5.10pm BST
5.05pm BST17:05
4 min: Fine save from Sommer! Under twists Rodridguez inside out on the edge of the area and has a shot blocked. The quick-witted Yilmaz chests the loose ball behind him to Kaan, who whistles the sweetest half-volley towards goal from 25 yards. Sommer dives to his right to push it away, a terrific save.
5.04pm BST17:04
3 min Now Tufan spanks over from long range. Turkey have made a bright, fast start.
5.03pm BST17:03
3 min The corner is headed away at the near post by Embolo.
5.03pm BST17:03
2 min The captain Burak Yilmaz has an early pop from long range. It hits the back of Akanji and flies behind for a corner.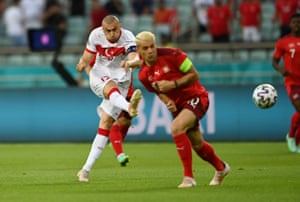 Updated at 5.08pm BST
5.00pm BST17:00
1 min Peep peep! Switzerland, in red, kick off from right to left. Turkey are all in white.
4.55pm BST16:55
The players stroll out of the tunnel, into the steamy Baku heat. There are reportedly over 20,000 Turkey fans in the ground, and they proudly belt out the national anthem.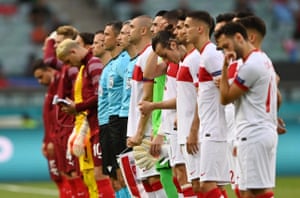 Updated at 5.00pm BST
4.01pm BST16:01
Paul Doyle is your man for the big game in Rome, and much else besides.
Updated at 4.06pm BST
4.00pm BST16:00
The permutations
Switzerland will go out of the tournament unless they win. A victory would give them four points, which should be enough to qualify as one of the best third-placed teams. They could also finish second in the group: if they win and Wales lose, goal difference will decide who comes second.
Turkey need to win to have any chance of qualification, probably by a few goals. Their poor goal difference (-5) is likely to cost them if more than one third-placed team finishes on three points.
Updated at 4.51pm BST
3.59pm BST15:59
Two changes for Switzerland. Silvan Widmer and Steven Zuber replace Fabian Schar and Kevin Mbabu, which should mean Ricardo Rodriguez moving from left wing-back to left centre-back.
Turkey make three changes from the side that lost to Wales. Okay Yokuslu, Kenan Karaman and the injured Umut Meras are out; Merih Demiral, Irfan Can Kahveci and Mert Muldur come into the team.
3.58pm BST15:58
Team news
Switzerland (3-4-1-2) Sommer; Elvedi, Akanji, Rodriguez; Widmer, Freuler, Xhaka, Zuber; Shaqiri; Embolo, Seferovic.Substitutes: Mvogo, Kobel, Mbabu, Zakaria, Vargas, Sow, Fassnacht, Benito, Mehmedi, Gavranovic, Schar, Comert.
Turkey (possible 4-2-3-1) Cakir; Celik, Demiral, Soyuncu, Muldur; Ayhan, Tufan; Under, Calhanoglu, Kahveci; Yilmaz.Substitutes: Gunok, Bayindir, Yokuslu, Tokoz, Karaman, Yazici, Antalyali, Kabak, Unal, Yilmaz, Kokcu, Dervisoglu.
Referee Slavko Vincic (Slovenia).
Updated at 4.51pm BST
3.30pm BST15:30
Preamble
You wait 19 months to play at a major tournament, and then it's all over in 10 days. Back in November 2019, when Switzerland and Turkey qualified for Euro 2020, they could let their imagination run wild with what they might achieve. But reality doesn't take long to bite, and today at least one of these teams will leave the competition without trace.
I'll explain the permutations later, just as soon as I understand them. In short, both teams need to win - but Turkey need to win huge, and even that might not be enough.
Kick off 5pm BST.
Updated at 4.50pm BST