Canada soccer fans revel coming in from the 'wilderness' and ...
The Hollywood Theatre was packed with red, white and World Cup dynamite on Wednesday.
Belgium vs. Canada: The beer flows, but no tears, as Canada soccer fans at a viewing party at the Hollywood Theatre watch their team give the world's No. 2 ranked team all it can handle.
Publishing date:
Nov 23, 2022 • 13 hours ago • 5 minute read
Join the conversation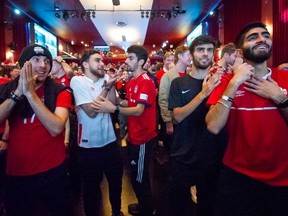 Fans at the Hollywood Theatre in Kitsilano cheer on Team Canada as they took on Belgium in their opening game at the 2022 World Cup in Qatar. Photo by Arlen Redekop /PNG
The Hollywood Theatre was packed with red, white and World Cup dynamite on Wednesday.
Around 600 fans who'd scooped up tickets for the Vancouver Whitecaps-hosted viewing party of Canada's first World Cup game in 36 years — they were gone in the first day — came dressed for the occasion. There were flags, scarves, and T-shirts with players names on them, but few current jerseys thanks to Canada Soccer's marketing and merchandise inability.
Sign up to receive The Canucks Report newsletter, delivered straight to your inbox at the start of every series. Essential reading for hockey fans who eat, sleep, Canucks, repeat.
By clicking on the sign up button you consent to receive the above newsletter from Postmedia Network Inc. You may unsubscribe any time by clicking on the unsubscribe link at the bottom of our emails. Postmedia Network Inc. | 365 Bloor Street East, Toronto, Ontario, M4W 3L4 | 416-383-2300
Davies, David and Buchanan — Les Rouge's youthful Holy Trinity of Alphonso Davies, Jonathan David and Tajon Buchanan — were the most popular choices. A few of Davies' No. 19 Bayern Munich dotted the crowd, an eclectically rare Marcus Haber kit, and a couple of John Catliff jerseys … including one worn by the legendary Canadian striker himself.
The mood at the theatre wasn't full of tension, but rather of loose and unbridled anticipation, like kids on Christmas morning waiting to unwrap their presents. Except this one, they'd waited 36 years to open.
Twelve thousand kilometres away at Ahmad Bin Ali Stadium in Qatar, the mood was the same with the Canadian players as they came out to face the No. 2-ranked team in the world: Belgium.
The Canadians, who sit 39 places below the Belgians, didn't sit back against the World Cup favourites. They exploded out of the gate, rocking the European powers under waves of attacks.
Back at the Hollywood in Kits, the building was jumping, with all kind of creative epithets surrounding Belgian chocolate and waffles being hurled at the big screen. Every chance elicited a roar. Shots from Stephan Estaquio, David and Buchanan were punctuated by a crescendo of cheers.
After Buchanan's shot in the ninth minute, the volume died dramatically as play was stopped, then blew the roof off when official Janny Sikazwe left the field to check a pitchside monitor after being alerted to a possible handball, and returned to point to the penalty spot.
Davies, the 22-year-old superstar, stepped up to take the free kick, the crowd hushing to a buzz, then groaned when Thibaut Courtois dove to his right to stop the low shot.
But it was more of the same as the half went on, with the Canadians sending wave after wave into the Belgian area, outshooting them 12-3 before the game was 40 minutes old.
There were even two more possible penalty kicks that were either ignored or dismissed by Sikazwe and the officiating crew, including a baffling call four minutes after the first that even confused Spanish legend Cesc Fàbregas, watching the game from afar.
More epithets were tossed at the screen, but this time, the language was far more coloured with anger than humour. A back pass from Belgium's Eden Hazard went right to Buchanan, who replays showed had his foot stepped on by defender Jan Vertonghen. But the sideline official incorrectly called it offside, but Sikazwe never went to the monitor to check the play.
And then …
"(It's a) story as old as time. Young underdogs press hard. Do well. Then savvy veteran team conserves energy and scores with a precision strike," TV producer Ryan MacLeod tweeted in response a post pointing out the disparity in play between the teams.
A long ball cleared Canadian centreback Steven Vittoria, and fell to Belgium's Michy Batshuayi — who was bracketed by defenders Kamal Miller and Richie Laryea. But he held off their challenges before volleying home a one-timer past Milan Borjan for the opening goal.
The Hollywood Theatre groaned.
But the goal didn't let the air out of the team's balloon, even if the mood back in Kitsilano was distinctly more subdued. Buchanan and Estaquio both had shots in first half injury time that put scares into the Belgians.
"I don't think this team has a balloon," Catliff said while getting a beer at halftime.
"I think that there's this belief in this team. Even when we've gone down against El Salvador and other qualifying games, we kind of just apply ourselves the same way. So that's what I'm expecting the second half, and I'm expecting that we win this game.
"I certainly expected us to come out on the front foot, because I know the type of coach John Herdman is. He was gonna get those guys ready to go through a brick wall.
"We kept that after pretty much the first 45. I don't think we can do it for 90 minutes, but hopefully they lag first, because we have the ascendancy as far as momentum, ball control speed, we're playing at a much faster pace than them … except for that one ball over the top."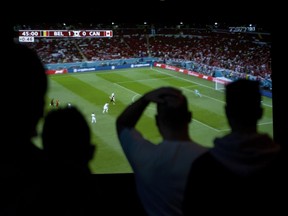 Anxious moments for Canada soccer fans at the Hollywood Theatre as they watch replays of the game's only goal that led to Belgium's 1-0 win.
The second half was more of the same, with the Canadians launching attack after attack, only to have them blunted or see their shots go astray.
Belgium tried several times to strike on the counter, only to see last-ditch tackles by Laryea and Miller keep transition moments from turning into breakaways or odd-man rushes.
But unlike Saudi Arabia and Japan before them, the upset wasn't in the cards for Canada in this World Cup game.
The numbers were staggering; Expected Goals (xG), a stat that rates the probability of a shot resulting in a goal, was 2.61 to 0.76 in Canada's favour. Shots were 22-9; shots in the penalty area, 18-6; and Big Chances, 3-1.
But the one stat they didn't win: 1-0, in goals for.
They now have a few days to recuperate before taking on Croatia on Sunday morning.
The red-and-white crowd began to file out of the theatre after full-time, a few stragglers staying to finish their beers before joining the crowd outside on Broadway.
The sound had been turned off, but on the big screen, John Herdman had gathered his team in a circle in the middle of Ahmad Bin Ali Stadium, and was in the middle of a passionate speech to his players.
What did he say?
"I just showed them the stats," he told broadcasters after the game.
"I just told them they belong here and we're going to go and 'F' Croatia next. It's as simple as that. That's our next mission now."
Catliff, who was Canada's all-time leading goal-scorer until Dwayne De Rosario came along but still ranks fourth all-time, will be watching.
"It's crazy. Like I never watched Canada at the World Cup, and it's awesome. (We were) so long in the wilderness," he said. "'Oh, another World Cup? Great. I'm gonna choose England.' Now it's … it's awesome."
Twitter.com/TheRealJJAdams
Upsets abound as Canada readies for first World Cup match in 36 years

Where to watch the World Cup? Check out pubs, bars and your nearest cultural centre
More news, fewer ads: Our in-depth journalism is possible thanks to the support of our subscribers. For just $3.50 per week, you can get unlimited, ad-lite access to The Vancouver Sun, The Province, National Post and 13 other Canadian news sites. Support us by subscribing today: The Vancouver Sun | The Province.