Sheffield United 2-3 Manchester United: Premier League – live!
Minute-by-minute report: Sheffield United took an early lead but the visitors proved too strong with Marcus Rashford scoring twice. Join Simon Burnton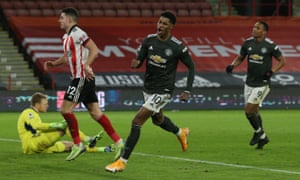 Key events
Show
9.53pm

GMT

21:53

Final score: Sheffield United 2-3 Manchester United

9.45pm

GMT

21:45

GOAL! Sheffield United 2-3 Manchester United (McGoldrick, 87 mins)

9.10pm

GMT

21:10

GOAL! Sheffield United 1-3 Manchester United (Rashford, 51 mins)

8.48pm

GMT

20:48

Half time: Sheffield United 1-2 Manchester United

8.34pm

GMT

20:34

GOAL! Sheffield United 1-2 Manchester United (Martial, 33 mins)

8.27pm

GMT

20:27

GOAL! Sheffield United 1-1 Manchester United (Rashford, 26 mins)

8.06pm

GMT

20:06

GOAL! Sheffield United 1-0 Manchester United (McGoldrick, 5 mins)
Live feed
Show
9.53pm GMT21:53
Final score: Sheffield United 2-3 Manchester United
90+5 mins: It's all over, and Manchester United's 100% away record continues!
9.52pm GMT21:52
90+4 mins: Pogba and Robinson have a bit of a coming together, though it's half-hearted at worst. Both are booked.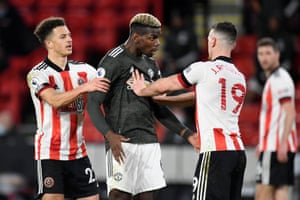 Updated at 9.58pm GMT
9.51pm GMT21:51
90+3 mins: So Sheffield United took the lead, Manchester United battled back to apparently win it, and now they're hanging on in stoppage time? This is exactly what happened last season! Where's Oli McBurnie? Oh.
9.49pm GMT21:49
90+1 mins: Save! Ramsdale boots the ball downfield, Brewster knocks it into the path of Mousset, and he volleys towards the far corner only for Henderson to push it clear!
9.48pm GMT21:48
90+1 mins: There'll be four minutes of stoppages. They start with Henderson getting booked for timewasting.
9.48pm GMT21:48
90 mins: McTominay replaces Martial for stoppage time.
9.47pm GMT21:47
89 mins: Well that's put a spring in Sheffield steps. Suddenly they're hustling. They win a throw-in on the right, which Robinson flings into the area. Pogba heads clear.
9.45pm GMT21:45
GOAL! Sheffield United 2-3 Manchester United (McGoldrick, 87 mins)
The corner is curled towards the far post, where Lindelof wins the header, heads the ball into the back of McGoldrick's head, and it rebounds into the net!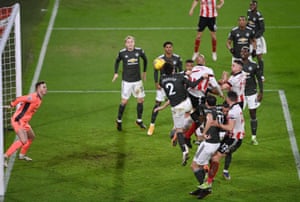 Updated at 9.52pm GMT
9.44pm GMT21:44
86 mins: A lovely pass inside the full-back for Baldock, bursting into the penalty area, but Telles absolutely busts a gut to get there and turn it behind for a corner.
9.41pm GMT21:41
83 mins: Brewster's shot hits the wall. He falls down as he hits it; a minute or so ago he fell down in the action of hitting a pass wide to McGoldrick. I fear he needs to change his boots.
9.40pm GMT21:40
82 mins: Brewster plays a one-two with Mousset and tries to poke the ball past Maguire and into the area, but the defender blocks with a hand. The free kick will give the Blades a fine shooting chance. "Here in South America, Manchester United are known as 'El Manchester' and Manchester City as 'El City'," writes Rod Wooden. "Other teams with the word 'City ' in their title are known as 'El Leicester', 'El Norwich', etc. Not a bad rule of thumb, methinks."
9.37pm GMT21:37
79 mins: Fernandes has chipped his last pass, and Donny van de Beek has replaced him.
9.35pm GMT21:35
78 mins: Manchester United threaten again. Fernandes plays a low pass this time to Martial, who spots Mata's run and picks him out with a cross from the left, and the Spaniard shoots too close to Ramsdale.
9.33pm GMT21:33
75 mins: Fernandes lifts the ball over the home defence again. This time it's to Mata, beyond the far post, who manages to poke it back into play. It runs to Martial, whose shot is blocked.
9.31pm GMT21:31
73 mins: There is not a lot of drama to this game at the moment. Some motions are being gone through. Sheffield United bring Brewster on for Burke, and Manchester United bring Mata on for Greenwood.
9.28pm GMT21:28
71 mins: From the free-kick Rashford hammers a shot into the wall.
9.28pm GMT21:28
70 mins: Egan gets booked, for attempting to play quite a delicate pass despite Bruno Fernandes being between him and the ball. He didn't get a lot of the Portuguese playmaker, but the ref thought it was enough.
9.25pm GMT21:25
67 mins: Greenwood runs infield from the right, is allowed to keep going into the area, and eventually smacks a shot that stings the palms of Ramsdale.
9.21pm GMT21:21
64 mins: Jagielka, who came on for Berge in the first half, has been replaced by Mousset.
9.21pm GMT21:21
63 mins: Fleck nearly scores an Olimpico! His curling corner from the right is dipping in at the far post, but Henderson tips it over.
9.19pm GMT21:19
60 mins: Bruno Fernandes has spent his entire evening chipping balls over the home defence for people to run onto. His latest effort was precision-engineered for Wan-Bissaka, but the full-back couldn't find a finish.
9.14pm GMT21:14
56 mins: United win a corner, which Telles lifts to Bruno Fernandes on the edge of the area, whose attempt to PaulScholes it into the back of the net ends badly.
9.14pm GMT21:14
55 mins: "Is Kai Rooney signing a contract or working on his maths homework?" wonders Peter Oh.
9.10pm GMT21:10
GOAL! Sheffield United 1-3 Manchester United (Rashford, 51 mins)
Another goalkeeping howler in my book, but it's a fine break from Manchester United, starting with Paul Pogba's pirouette midway through his own half, continuing despite Jagielka's foul on Greenwood - the referee waves play on; Jagielka is booked after the goal is scored - and ending with Martial's poor first touch running to Rashford, whose low first-time shot from outside the area skids down the middle of goal and under Ramsdale!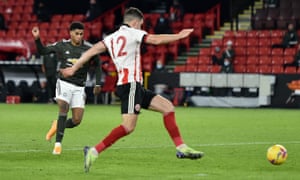 Updated at 9.27pm GMT
9.08pm GMT21:08
49 mins: Ally McCoist, Amazon's co-commentator, is working himself into a lather about Marcus Rashford and his grace and beauty when on the run, falling somewhere between David-Attenborough-describing-a-cheetah and pornography.
9.05pm GMT21:05
47 mins: The Salford side win a free-kick on the right, which Telles curls onto the head of Martial, who diverts it over the bar.
9.03pm GMT21:03
46 mins: Peeeeeep! The home side get the second half started.
9.02pm GMT21:02
The players are back out! No sign of any half-timely substitutions. "It's like 32 players are lined up against the playground wall and two managers (who know them) get to pick teams," writes Gary Naylor. "To even things up, the manager who doesn't really understand football gets the first 16 picks and the manager who does know football gets the leftovers."
9.00pm GMT21:00
"Rashford's featherlike touch for that first Man Utd goal would have left a falling raw egg unbroken," raves Justin Kavanagh. "Not that anyone would be chucking eggs at St Marcus." His first touch wouldn't have hurt a raw egg, his second would have done some damage to a brick wall.
8.57pm GMT20:57
Today's other big Manchester United news: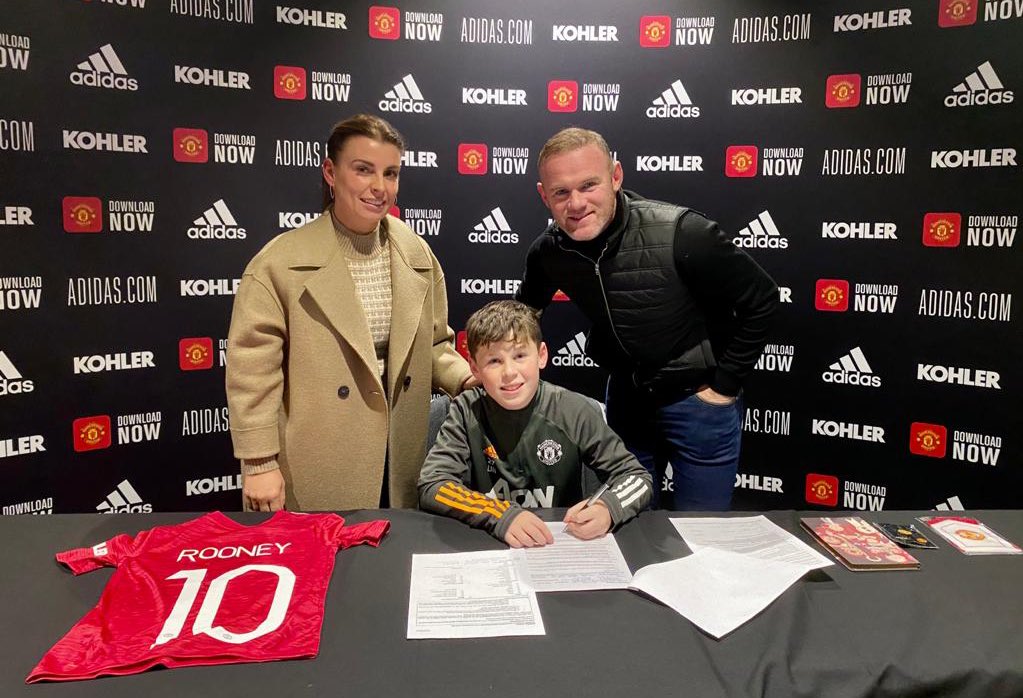 8.48pm GMT20:48
Half time: Sheffield United 1-2 Manchester United
45+3 mins: That's all for now. It's been a more than decent half, and as it ends the home side have a quarter of an hour to work out what to do about fast forwards who insist on running quickly.
8.48pm GMT20:48
45+1 mins: There'll be two minutes of stoppage time. "Jimmy Greaves used to call United just Manchester, much to the annoyance of my City mates," says Paul Howarth. That would be fine if there was only one Manchester, but as it is it doesn't solve anything, except for the question of how to annoy City fans.
8.46pm GMT20:46
45 mins: McGoldrick runs from halfway, loses the ball to Matic with a poor touch, wins it back with a good sliding tackle, rises from the turf, and, after all that, leathers a pointless shot wide from 30 yards.