Update: CF Montréal terminates Sandro Grande one day after coach ...
"We recognize that the hiring was a mistake and we regret any repercussions that may have been caused by this decision."
"We recognize that the hiring was a mistake and we regret any repercussions that may have been caused by this decision."
Author of the article:

Published Jan 10, 2023 • 3 minute read
19 Comments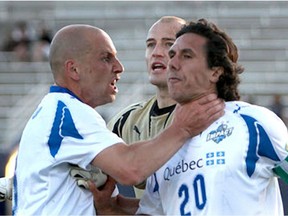 Montreal Impact midfielder Sandro Grande, left, grabs teammate Mauro Biello by the throat on July 11, 2009 in Minnesota. Photo by Jeremy Olson /Minnesota Thunder files
Sandro Grande has been fired as head coach of the reserve team of CF Montréal, one day after the team announced he'd been appointed.
The office of Premier François Legault, the leader of the Parti Québécois, the provincial minister of sport and others had decried the hiring because of the coach's history of anti-sovereignist statements and his apparent encouragement of an assassination attempt on premier-elect Pauline Marois in 2012.
Sign up to receive daily headline news from the Montreal Gazette, a division of Postmedia Network Inc.
By clicking on the sign up button you consent to receive the above newsletter from Postmedia Network Inc. You may unsubscribe any time by clicking on the unsubscribe link at the bottom of our emails or any newsletter. Postmedia Network Inc. | 365 Bloor Street East, Toronto, Ontario, M4W 3L4 | 416-383-2300
"We recognize that the hiring of Sandro Grande was a mistake, and we regret any repercussions that may have been caused by this decision," CF president and CEO Gabriel Gervais said.
Ewan Sauves, press attaché for Legault, had said earlier Tuesday morning: "In the past, Mr. Grande has expressed unacceptable and hurtful words. His nomination shows a lack of respect and sends a bad message. This is a big lack of judgment on the part of CF Montréal."
Montreal Mayor Valérie Plante tweeted Tuesday morning that CF Montréal "made the necessary decision. … Hate, racism and misogyny have no place in our society and I hope the club will continue to embody the Montreal values of respect and inclusion."
On Monday, PQ Leader Paul St-Pierre Plamondon on Monday said he deplored Grande's nomination given his past comments, including his Tweet about the attempt on Marois's life.
"The only mistake the shooter made last night was not getting the target!!! Marois!!! Next time buddy!! Hopefully!," Grande's Twitter account read the day after the Sept. 4, 2012 shooting at the PQ's victory party at Metropolis, where Richard Henry Bain shot two people, killing one, and set a fire outside the venue.
Grande said at the time that his account was compromised, and maintained that story, according to La Presse. But the former player admitted he described Quebec separatists as "f–ken hillbillies in the north" and "so stupid."
St-Pierre Plamondon quickly issued a statement calling the hiring "unacceptable."
1/4 Le PQ dénonce vivement cette nomination inacceptable.
En rappel, dans les heures qui ont suivi le drame du Métropolis, Grande a publié ceci : «La seule erreur que le tireur a commise la nuit dernière, c'est de rater sa cible! Marois! La prochaine fois mon gars! J'espère!» https://t.co/dfXzkxJavu
— Paul St-Pierre Plamondon (@PaulPlamondon) January 10, 2023
Quebec Sports Minister Isabelle Charest expressed her concerns over the repercussions of Grande's hiring.
"As we strive to make significant change in the culture of sports, CF Montréal lacks enormous judgement with this hiring," she wrote on her Twitter account. "The comments made by Sandro Grande are unacceptable and have no place in our society.
"There is reason to wonder what message is being sent to young people, especially those who will be under Mr. Grande's responsibility. For real change we must all work in the same direction."
Grande's statements came three years after the Montreal Impact released Grande for having grabbed teammate Mauro Biello by the throat during practice in 2009.
As for his recent hiring, Grande said in a statement released by the team: "I am very grateful and happy to have the opportunity to return to the club I have loved since my childhood. I made some serious mistakes several years ago and I offer my sincere apologies to those whom my past comments have offended in any way. I have learned a lot from them, and I know that I am joining an organization where the values of inclusion and diversity are fundamental. I think it is important to use our personal experiences to continually improve and correct our past mistakes."
St-Pierre Plamondon said he was made aware of the apology but that it was "insufficient and failed to mention the group it targeted (sovereignists) or the person he hoped would be killed (P. Marois)."
Grande, he said, "did not commit a single banal error or a tweet too much one night, he made on several occasions garbage and criminal statements targeting more than two million indépendantiste Quebecers."
Mme Pauline Marois a été victime d'un attentat politique.
Mme Marois s'est tenue debout face à la terreur, littéralement!
À nous aujourd'hui de nous tenir debout. Ne banalisons ni les gestes ni les mots.
100% d'accord avec toi @PaulPlamondon. https://t.co/wl02IDz0gF
— Marwah Rizqy (@marwahrizqy) January 10, 2023
CFM had also announced Patrick Viollat would be Grande's assistant coach. Now, Viollat will assume the duties of head coach of the reserve team instead of Grande.
Grande has been the technical director at FC Laval since October 2021 and was previously technical director of the Étoiles de l'Est from 2011 to 2019 and led the soccer programs at Collège Montmorency from 2017 to 2021. As a player, he played for the then-USL Montreal Impact in 2004, 2005, 2008 and 2009.
Viollat has been technical director of the Concordia Regional Soccer Association since 2019 and before that was the technical director of the Lac St-Louis Regional Soccer Association, and served as assistant coach for the soccer teams at McGill University.
The team, formerly CF Montréal U23, will now be called CF Montréal Reserve. It plays in the Première ligue de soccer du Québec (PLSQ).

New CF Montréal manager Losada puts best foot forward as camp begins

CF Montréal adds two ex-Impact players as assistant coaches