CMA CGM to up presence along Europe-Mediterranean-Middle East, India
December 17, 2020: The CMA CGM Group is reinforcing its presence through improved port coverage and vessel deployment on its EPIC, EPIC2, MEDEX and MEGEM services, allowing for increased connectivity to the global CMA CGM solutions along Europe-Mediterran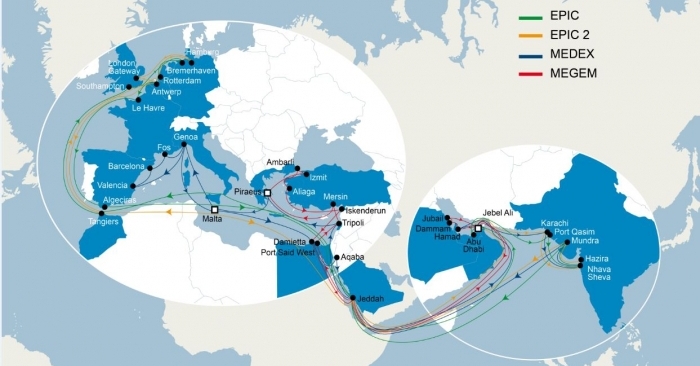 These new improvements aim for faster connections and will be implemented from January 2021 onwards.
By: Our Correspondent
December 17, 2020: The CMA CGM Group is reinforcing its presence through improved port coverage and vessel deployment on its EPIC, EPIC2, MEDEX and MEGEM services, allowing for increased connectivity to the global CMA CGM solutions along Europe-Mediterranean-Middle East and India Subcontinent trades.
"These new improvements will be implemented from January 2021 onwards and will offer enhanced transit times to our customers, said the release.
EPIC services will offer the fastest connections from the Middle East and the Indian subcontinent to Northern Europe. Transhipment opportunities will deliver increased coverage to and from Red Sea, East Africa, South America, West Africa, USA East Coast, US Gulf, Canada, Scandinavia, Poland, Baltic states, Russia.
"CMA CGM will operate 5 vessels on the EPIC North Europe service, thus having the operational lead on this historical trade of the CMA CGM Group, noted the release.
MEDEX and MEGEM services will include a Westbound call in Tripoli, Lebanon. "As a new hub within the country, this will allow our clients to connect with the Black Sea, the East Mediterranean and North Africa trades," the company said.
EPIC Service Rotation: Southampton, Bremerhaven, Rotterdam, Antwerp, Le Havre, Algeciras, Jeddah, Jebel Ali, Abu Dhabi, Port Qasim, Nhava Sheva, Mundra, Jeddah, Tangier• Weekly service with 8 vessels• CMA CGM will operate 5 vessels• Nhava Sheva to Southampton: 20 days• Rotterdam to Jebel Ali: 23 days• Voyage duration: 56 days• Launch in Jebel Ali on January 13
EPIC 2 Service Rotation: Rotterdam, Hamburg, London, Antwerp, Tangier, Jeddah, Jebel Ali, Karachi, Nhava Sheva, Hazira, Mundra, Jeddah, Tangier• Weekly service with 8 vessels• Nhava Sheva to London: 28 days• Hamburg to Mundra: 31 days• Voyage duration: 56 days• Launch: January onwards
MEDEX Service Rotation: Tripoli, Piraeus, Malta, Genoa, Valencia, Barcelona, Fos, Genoa, Malta, Damietta, Aqaba, Jeddah, Hamad, Jebel Ali, Karachi, Nhava Sheva, Mundra, Jeddah• Weekly service with 8 vessels• CMA CGM will operate 3 vessels• Mundra to Valencia: 20 days• Damietta to Karachi: 17 days• Voyage duration: 56 days• Launch: January onwards
MEGEM Service Rotation: Port Said, Tripoli, Mersin, Piraeus, Izmit, Istanbul, Aliaga, Iskenderun, Damietta, Jeddah, Jebel Ali, Hamad, Dammam, Jubail, Jebel Ali, Jeddah• Weekly service with 7 vessels• CMA CGM will operate 2 vessels• Istanbul to Hamad: 19 days• Damietta to Jebel Ali: 9 days• Voyage duration: 49 days• Launch in Jebel Ali on January 9